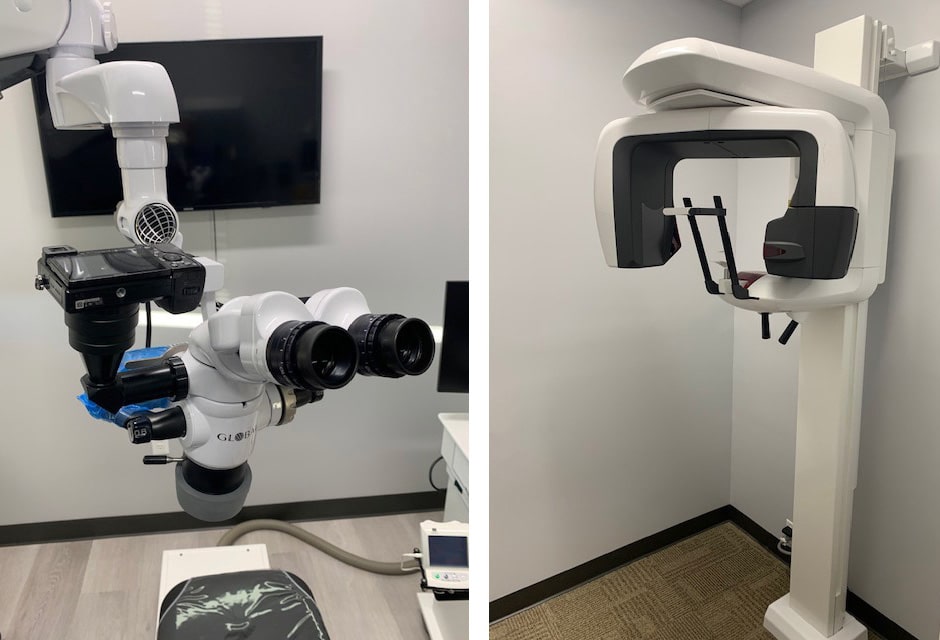 Rhode Island Endodontics uses the most up-to-date tools and methods to improve patient care. Call the office at 401-337-9150 to ask about our advanced dental technology and make an appointment.
What Is Advanced Dental Technology?
Advanced dental technology allows endodontists to perform procedures with safety and accuracy. Technology like Cone Beam 3-D Scanners, Digital X-Rays, and Electronic Apex Locators increase the patient's chances of a successful procedure.
Benefits of Advanced Dental Technology
When examining the benefits of advanced dental technology, it is easy to see why Dr. Fazli chooses to keep his practice up-to-date.
Accurate Diagnosis
Using high-tech diagnostic equipment like microscopes, oral cancer screenings, and electronic apex detectors allows endodontists to understand their patient's needs and plan effective treatments and procedures
Better Patient Comfort 
When procedures occur more efficiently, patients experience less discomfort. Digital intraoral scanners increase patient comfort because they easily replace traditional dental impressions.
Lower Radiation
The Cone Beam 3-D Scanner and digital X-rays offer increased diagnostic ability with a fraction of the radiation used by traditional equipment.
Procedures Offered
Our practice offers several types of advanced methods and equipment used to make patients' procedures safer and more effective:
Cone Beam Scanner 3-D Imaging
The Cone Beam or CBCT Scanner provides advanced visualization of teeth and surrounding bone structures. This scanner allows the endodontist to reach a more comprehensive diagnosis since they can examine anything from a single tooth to the full sinus.
The CBCT scanner aids in diagnosing root fractures which can often be difficult to detect. It also finds evidence of hidden oral disease.
Digital X-Rays 
Digital X-Rays are more accurate than the older film variety and use a fraction of the radiation. They are easier to store and share and quickly provide diagnostic information.
Microscopes and Imaging
Endodontists perform many procedures using a specialized operating microscope. These microscopes can improve precision and show the endodontist vital details like fractures and calcified canals. Microscopes may also have video and photography capabilities.
Digital Intraoral Cameras
Intra-oral cameras allow dentists to access close-up images inside the mouth and share them with the patient. Vital oral care information is easy to access.
Electronic Apex Locator
The Electronic Apex Locator measures the length of the root canal. The doctor can then position the file according to the root's apex. This method allows for better precision and debris detection, making the root canal more successful.
Electronic Medical Records (EMR)
Rhode Island Endodontics keeps its medical records in digital format, making them more secure, confidential, and portable. Records provide quick access and ease of sharing with the patient's general dentist.
Oral Cancer Screening
The endodontist uses specialized light to detect potentially unhealthy oral tissues. Early detection makes oral cancer easier to treat and potentially saves lives.
Digital Flat-Screen Monitors
Patients can easily review their imaging results with the endodontist and watch TV and movies from the comfort of the dental chair.
Why Choose Rhode Island Endodontics?
Dr. Usman Fazli, DMD, is a Board Certified endodontist. He employs these updated methods in his Warwick practice. He has created a comfortable, modern environment where patients can receive quality dental care.
Frequently Asked Questions About Advanced Dental Technology

How does the electronic apex locator work?

The locator measures the electrical resistance in the apex of the root. This technology allows the endodontist to find the precise length of the root canal, allowing for proper treatment. Electronic technology reduces the number of X-rays taken during the root canal process and makes the procedure safer for the patient.
How long does a Cone Beam CT scan take?

The scan should only take a few minutes, including positioning the equipment. It is a fast and accurate way to view vital dental images.
Why are digital X-rays better than film X-rays?

Root canals have a painful reputation, but today's root canals provide a more pleasant experience. The endodontist uses local anesthesia to numb the area completely.
Why is early detection of oral cancer so important?
Oral cancer goes undetected in many patients and sometimes goes undiagnosed until later stages. New methods allow dentists to flag potential cancer sites and refer the information to an oral surgeon or oncologist for treatment.
Call Rhode Island Endodontics
To take advantage of innovations in dental technology, call Rhode Island Endodontics at 401-337-9150. Your treatment will be more accurate and effective using new methods and equipment.